How Owning a Dog Could Improve Your Health
By Dr. Manny Alvarez Published March 30, 2017 FoxNews.com
Owning dog can help boost your health in more ways than one.
Nearly everybody will smile when they're petting a dog. If the dog happens to plant a big kiss right on your hands or face, you will probably laugh and giggle, even while pushing the dog away. Did you know that dogs can bring more than a smile to your face, though? Science shows that they actually improve your health.
One Autistic Teen
For years, one autistic teen named Cadence wanted a service dog. Knowing that this dog would improve the teen's self-esteem and anxiety, Cadence's mother applied for one over and over again. Every time, her mother kept telling Cadence the sad response—no.
While Cadence has high function as an autistic girl, she still struggles with emotions sometimes. Cadence needed the unconditional love of a dog to balance those moments and bring her that smile. After four years of lowered spirits and let-downs, Cadence finally got a service dog, and the teen couldn't have been more excited.
The Health Benefits of Dog Ownership
For Cadence, a service dog will help improve her emotional health, and ultimately the physical side too. Still, Cadence isn't the only one who will benefit from owning a dog. Here are just a few ways that dogs can boost your health and bring you happiness:
Dogs Strengthen Your Heart
According to the American Heart Association, dogs can decrease your risk of cardiovascular disease. There could be several reasons for the lowered risk, including the time spent exercising the dog and the distraction from work or family stress.
Although the AHA has not been able to link dog ownership and heart disease conclusively, studies do show that dog owners have better heart health.
Dogs Lower Stress
Remember how dogs make you laugh and smile as you pet them? Ultimately, those lighthearted laughs will lower your stress levels.
A study from the University of Missouri-Columbia revealed that petting a dog causes your body to release those "happy hormones," including serotonin and oxytocin. At the same time, a dog will also lower the stress hormone cortisol.
In one Missouri study, scientists tested the hormone levels of dog owners and non-owners alike. They found that people received the most benefit (through increased serotonin levels) when petting their own dogs. Also, simply stroking the dog for 15-30 minutes lowered the participants' blood pressure by 10 percent.
Dogs Boost Immunity
If you have children, owning a dog can work in your favor, fending off the onset of allergies. Published in Clinical & Experimental Allergy, one study showed that infants exposed to a pet before the six-month mark have a decreased risk of allergies. They also have a decreased risk for hay fever, eczema, and upper respiratory infections too.
In addition, dogs may help balance out and boost your gut health. Because dogs have many different types of beneficial bacteria, owning one will expose you to them.
As you take your dog outside during the day, it will also pick up organisms from outdoors. Simply put, you will definitely benefit from exposure to your dog's healthy bacteria.
Treat Dogs Humanely
In light of how much dogs can benefit their human companions, you would think that people would treat them with kindness. Unfortunately, thousands of dogs are mistreated, neglected, and killed across the world every year.
While you might think that animal cruelty means nothing for humans, you might be surprised. Many criminals who have committed violent and grotesque acts against humans actually started with animals.
Even if animal abusers did not turn into human offenders, you should still find the abuse appalling. When a person adopts a dog into his home, he is communicating that he will take responsibility for the dog's care.
The dog will give him love, but what will he receive in return? For abusive owners, the dog will find himself neglected, beaten, and even killed inhumanely in exchange. If you know a dog in an abusive situation, you should not tolerate it. Find help immediately and protect man's loving best friend.
If you choose to open up your home to a dog, take responsibility for it. Get all the benefits of a healthy immune system, lowered blood pressure, and reduced stress. Then, give it the love and attention it deserves, and you'll find an unconditional friendship that lasts a lifetime.
---
Chicago Police Department K9's Cooper, Black, Wayne, Jason, Alex, Max, & Simon Will Receive Bullet and Stab Protective Vests.
Chicago Police Department K9's Cooper, Black, Wayne, Jason, Alex, Max, & Simon will receive bullet and stab protective vests thanks to a charitable donation from non-profit organization Vested Interest in K9s, Inc. The K9's vests are sponsored by the fundraising event "Operation Vest' Em" hosted in Chicago, IL and will be embroidered with the sentiment "Donated by Operation Vest' Em". Delivery is expected within eight to ten weeks.
Vested Interest in K9s, Inc. is a 501c (3) charity located in East Taunton, MA whose mission is to provide bullet and stab protective vests and other assistance to dogs of law enforcement and related agencies throughout the United States. The non-profit was established in 2009 to assist law enforcement agencies with this potentially lifesaving body armor for their four-legged K9 officers. Since its inception, Vested Interest in K9s, Inc. provided over 2,200 protective vests, in 50 states, through private corporate donations, at a cost of over 1.9 million dollars. All vests are custom made in the USA by Armor Express in Central Lake, MI.The program is open to dogs actively employed in the U.S. with law enforcement or related agencies who are certified and at least 20 months of age. New K9 graduates, as well as K9s with expired vests are eligible to participate.
The donation to provide one protective vest for a law enforcement K9 is $1,050.00. Each vest has a vale between $1,795-$2,234 and a five year warranty, and an average weight of 4-5 lbs. There is an estimated 30,000 law enforcement K9s throughout the United States. For more information or to learn about volunteer opportunities, please call 508-824-6978. Vested Interest in K9s, Inc. provides information, lists events, and accepts tax-deductible donations of any denomination at www.vik9s.org or mailed to P.O. Box 9 East Taunton, MA 02718.
---
First-Ever National "Take Your Cat On An Adventure" Day Set for June 15, 2016
Purina® Pro Plan® and Adventure Cats team up to promote safe outdoor experiences for cats and their owners
(PR Newswire, ST. LOUIS – June 8, 2016) – Whether it's exploring the great outdoors or within the walls of their own home, cats have a knack for making the ordinary extraordinary. To help cat owners rethink the ordinary and inspire them to keep the adventure alive with their cats, Purina Pro Plan is partnering with Adventure Cats to proclaim June 15 as National "Take Your Cat On An Adventure" Day. The day encourages all cat owners to create a safe outdoor experience with their cat and share photos of their adventures online using #MyGreatCat.
Part of a cat's true nature is their adventurous spirit. Safe exposure to the outside world can be an engaging part of a cat's life, allowing them to exercise their natural instincts and stay in tune with their surroundings. Pro Plan and Adventure Cats are partnering to provide expertise and helpful insights to fully unleash these instincts. National "Take Your Cat On An Adventure" Day on June 15 provides owners an opportunity to share new experiences with their cats that they may not have considered before.
"Purina Pro Plan is passionate about pioneering new possibilities to help cats and those that love them live their best life possible," said Aaron Williams, Brand Manager for Purina Pro Plan. "That starts with food that has extraordinary nutrition and exceptional taste and continues with fostering ways to keep their lives healthy, happy and always adventurous."
Adventure Cats is a group of outdoorsy cat lovers who started AdventureCats.org as a resource for people looking for safe ways to explore the great outdoors with their feline friends. They are challenging negative stereotypes about cats and the people who love them in order to increase shelter cat adoptions.
"We want to inspire cat owners to enrich their kitties' lives — whether it's through an indoor activity like playtime or an outdoor one like taking a hike on a leash," said Laura Moss, editor and co-founder of Adventure Cats. "We're passionate about showing people all the rewarding experiences they can share with their feline friends, so we love that Purina Pro Plan is helping us reshape how people think about cats."
While some cats will thrive taking outdoor adventures, some may never become comfortable with leash walking due to age, personality or lifestyle. But even cat owners who can't venture outdoors can still partake in the June 15 celebration through dynamic indoor toys and activities such as puzzle feeders, hidey boxes or wand toys.
Cat owners are encouraged to share images of their adventures from National "Take Your Cat On An Adventure" Day using #MyGreatCat for a chance to win a year's supply of Pro Plan cat food from Adventure Cats.
For more information on Purina Pro Plan, how to get involved in National "Take Your Cat On An Adventure" Day and tips on how to adventure responsibly, visit www.mygreatcatadventure.com.
---
American Humane Association Focuses on Health, Welfare, and Loving Homes for Country's "Most Popular Pet" and Offers Top 10 Checklist for Cat Parents-to-Be During Adopt-A-Cat Month
(Washington, June 1, 2016) – Each spring during "kitten season," thousands of newborn kittens join the millions of cats already in shelters across the country. That means your local shelter has tons of cute, cuddly newborns, in addition to all the mellow, older cats, and everything in between. And the shelter staff is ready to help you adopt your very first cat – or to bring home a friend for another beloved cat – just in time for American Humane Association's Adopt-a-Cat Month®. This year, America's first national humane organization is commemorating a century of rescuing cats, kittens, and many other animal species from disasters like hurricanes, tornadoes, floods, and major animal cruelty cases, and is encouraging Americans everywhere to rescue a cat or kitten of their own from a shelter or rescue group.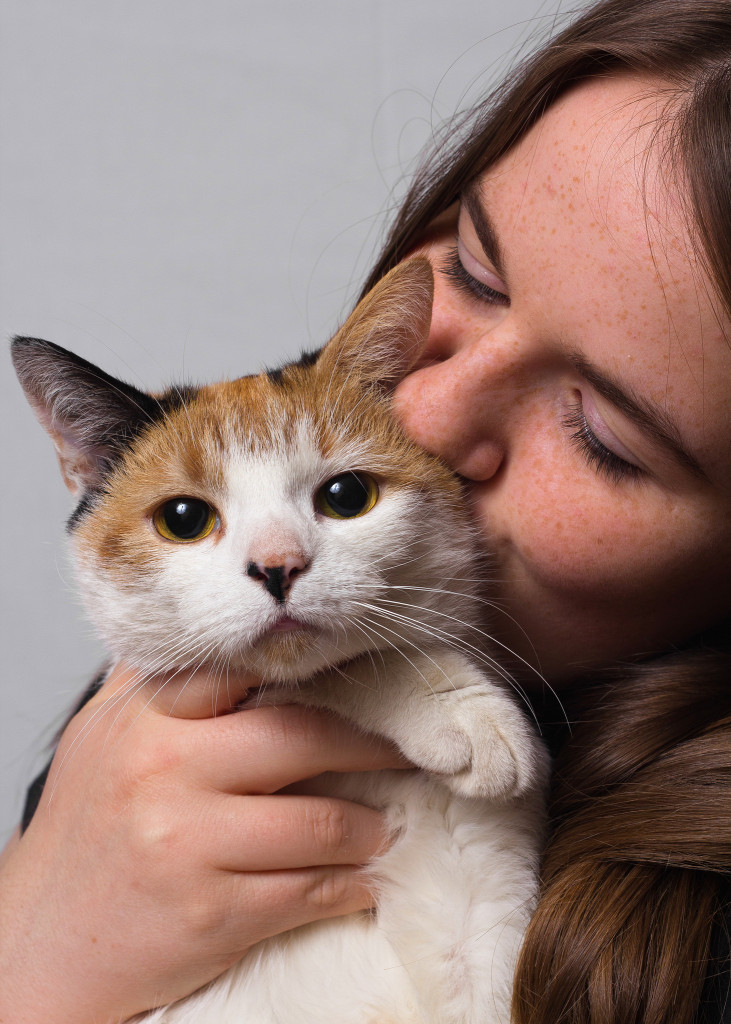 The popular annual campaign is part of a larger effort by American Humane Association to help these beautiful animals and focus on and help solve the unique challenges and issues they face. Although cats have often been referred to as America's "Most Popular Pet," they receive less veterinary care, have less research dedicated to their unique health/behavioral issues, are more likely to be feral, and are more likely to be euthanized in shelters than dogs. American Humane Association continues to conduct research identify barriers to cat adoption and retention, as well as other key welfare issues.
To help people do their part now, here is a top 10 checklist if you're thinking of adopting:
TOP 10 CHECKLIST FOR ADOPTING A CAT
If you're thinking about adopting a cat, consider taking home two. Cats require exercise, mental stimulation and social interaction. Two cats can provide this for each other.
Find a cat whose personality meshes with yours. Just as we each have our own personality, so do cats. In general, cats with long hair and round heads and bodies are more easygoing than lean cats with narrow heads and short hair, who are typically more active. Adoption counselors can offer advice to help you match the individual cat's personality with your own.
Pick out a veterinarian ahead of time and schedule a visit within the first few days following the adoption.You'll want to take any medical records you received from the adoption center on your first visit. Due to their immaturity, kittens in particular should accompany you to make the appointment – even before the exam itself – so staff can pet the cat and the animal will have a positive association with the veterinarian's office.
Make sure everyone in the house is prepared to have a cat before your new pet comes home. Visiting the shelter or animal control facility should be a family affair. When adopting a new cat with existing pets at home, discuss with the adoption facility how to make a proper introduction.
Budget for the short- and long-term costs of a cat. Understand any pet is a responsibility and there are costs associated with that. A cat adopted from a shelter is a bargain; many facilities will have already provided spaying or neutering, initial vaccines, and a microchip for permanent identification. Plus, shelters and rescue groups are there to offer guidance and assistance as you acclimate your new family member.
Stock up on supplies before the cat arrives. Be prepared so your new cat can start feeling at home right away. Your cat will need a litter box, cat litter, food and water bowls, food, scratching posts, safe and stimulating toys, a cushy bed, a brush for grooming, a toothbrush and nail clippers.
Cat-proof your home. A new cat will quickly teach you not to leave things lying out. Food left on the kitchen counter will serve to teach your new friend to jump on counters for a possible lunch. Get rid of loose items your cat might chew on, watch to ensure the kitten isn't chewing on electric cords, and pick up random items like paper clips (which kittens may swallow).
Go slowly when introducing your cat to new friends and family. It can take several weeks for a cat to relax in a new environment. It's a great idea to keep the new addition secluded in a single room (with a litter box, food and water, toys, and the cat carrier left out and open with bedding inside) until the cat is used to the new surroundings; this is particularly important if you have other pets. If you've adopted a kitten, socialization is very important. But remember – take it slow.
Be sure to include your new pet in your family's emergency plan. You probably have a plan in place for getting your family to safety in case of an emergency. Adjust this plan to include your pets. Add phone numbers for your veterinarian and closest 24-hour animal hospital to your "in-case-of-emergency" call list, and be sure to have a several-day supply of your pet's food and medications on hand.
If you're considering giving a cat as a gift, make sure the recipient is an active participant in the adoption process. Though well-meaning, the surprise kitty gift doesn't allow for a "get-to know-one-another" period. Remember, adopting a cat isn't like purchasing a household appliance or a piece of jewelry – this is a real living, breathing, and emotional being.
"American Humane Association has rescued thousands of cats in need over the past 100 years," said the organization's president and CEO, Dr. Robin Ganzert. "But there are still millions more healthy, adoptable pets in shelters around the country, just waiting for someone to be their hero by rescuing them and bringing them home. American Humane Association's Adopt-a-Cat Month not only encourages people to give loving homes to animals in need, but offers an opportunity to provide a wider focus on the ongoing need these beautiful animals face all year round. Remember, every day – this month and all year long – is Caturday!"